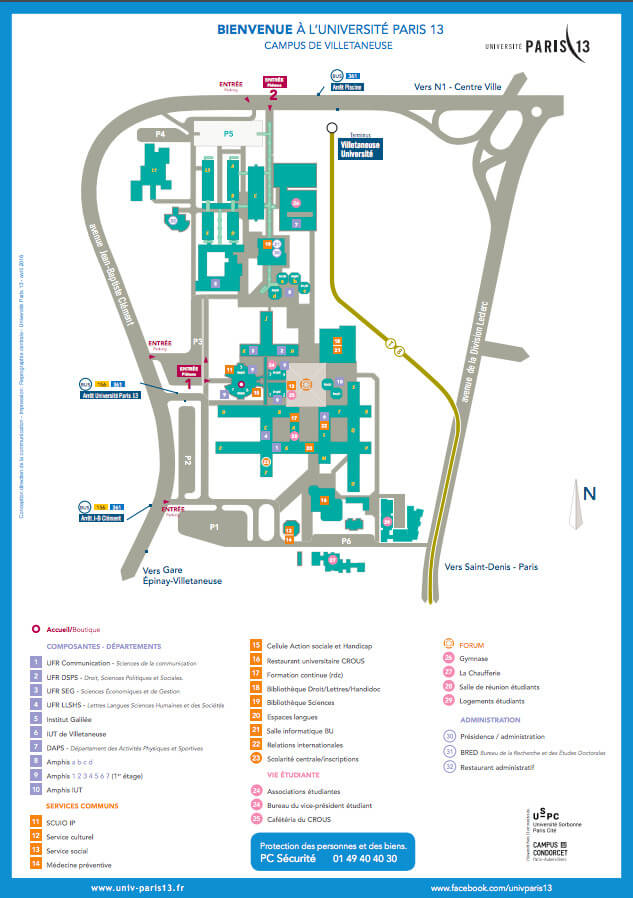 99, av. Jean-Baptiste Clément – 93430 Villetaneuse
> View on Google Maps
By car from Paris
Porte de la Chapelle > Autoroute A1 follow Lille Puis Sortie N°2 (Saint-Denis – Stade de France), then follow Villetaneuse Université
Coordonnées GPS – Latitude : 48.9561507 – Longitude : 2.3412625999999364
By public transport
From Paris
• Train ligne H, de la Gare du Nord (platforms 30 à 36), until gare d'Epinay-Villetaneuse. Once at Gare du Nord, follow either Persan-Beaumont, Valmondois, Monsoult-Maffliers or Pontoise. Make sure you check while on the departure platform that the train does indeed stop at Epinay-Villetaneuse.
Once at Epinay-Villetaneuse, exit on Villetaneuse side and take bus number 156 to Université Paris 13 or bus 361 to Gare de Pierrefite-Stains RER until Université Paris 13.
• You can also use Tramway T8 and alight at the last station "Villetaneuse Université".
From Saint-Denis campus
Bus 256 to Gare d'Enghien, stop at Carnot
From Bobigny campus
Tramway Ligne n°1 to Gare de St-Denis to Marché de Saint-Denis then take Bus 256 to Gare d'Enghien, alight at Carnot